FREE t-shirts...FREE beer...FREE food...YESSIR!
If you're heading to Memphis to watch the Aggies BTHO West Virginia in the Liberty Bowl, GRAB YOUR LIBERTY BOWL SHIRTS NOW and be sure to join the Aggieland Outfitters' #AORoadtrip and check out our new ride!! That's right...after three years of prepartying for wins in Tuscaloosa, Oxford, Starkville, Fayetteville and more, we've upgraded for 2015 to make the roadtrip tailgate parties even bigger and better! Catch a sneak peek of our new ride now!
The FREE Aggie tailgate with the Mid-South A&M Club and the Association of Former Students will begin at 9am--four hours prior to kickoff--and will be located in spots 3&4 of Blue Lot 15, just a short walk west of Liberty Bowl Memorial Stadium.
***MAP TO LIBERTY BOWL TAILGATE LOCATION***
Aggieland Outfitters #AORoadtrip bus marks the spot!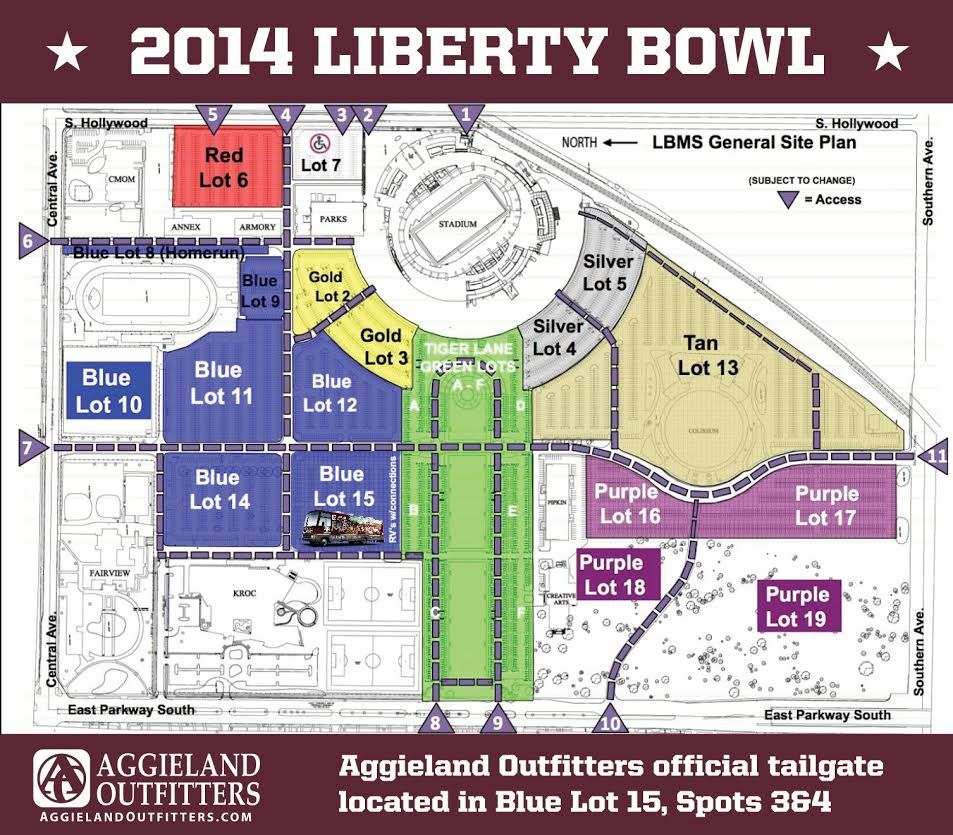 Free beer will be available on a first-come, first-served basis! Kristen Distributing, the local Bryan-College Station Miller Coors distributor, will once again be providing free Miller Lite, Coors Light, Lone Star and other adult beverages while supplies last (must be 21+ for free beer) thanks to a very generous donation to the event. We will actually have more beer than ever for this #AORoadtrip tailgate! The A&M club will also be providing free breakfast tacos while supplies last!
As with ALL of our road trips this fall, Aggieland Outfitters will be giving away a limited supply of goodies, including Liberty Bowl t-shirts, koozies, 12th Man Towels, AggielandOutfitters.com gift cards and all sorts of surprise freebies from the Leader in Aggie Gifts!
The #AORoadtrip bus will also have the Dish Network TV setup to watch, as well as TexAgs' documentary "SEC Ready" on Blu-ray prior to the game. So get to the stadium early, grab some food and a beer, watch some football, grab some freebies and snag some AggielandOutfitters.com gift cards to shop online for the very best in Aggie gear!
If you're NOT going to on the trip, be sure to follow @AggieOutfitters on Twitter, as well as the Aggieland Outfitters Facebook page. We'll keep everyone updated about what Aggies are doing in Memphis, and provide plenty of entertainment from the Aggieland Outfitters crew along the way!
Hope to see you all in Memphis! BTHO West Virginia!
PRO TIPS FROM OUR PRIOR #AORoadtrip TO MEMPHIS:
* Eat the ribs pretty much anywhere in Memphis. Rendezvous was our favorite in 2013 for the Ole Miss trip. Also, don't leave town without stopping by the ORIGINAL Gus' Fried Chicken, which has been featured on numerous TV shows. There will likely be a wait, but it's worth it.
* Enjoy Beale St. - Think, Bourbon Street, but cleaner, and when Aggies Maroon Out Beale Street, it's one of the best parties on the road in the SEC!
* Take the tour at Sun Studio where Elvis, Johnny Cash, Jerry Lee Lewis and countless other musicians recorded some of the greatest music in American history. You can even take your photo with one of the microphones that was used by Elvis, and see the hole in the floor left by his upright bass player.
* Visit the National Civil Rights Museum where Martin Luther King was assassinated. It's a very touching tribute to one of the most renowned civil rights leaders in American history.

QUICK SIDE NOTE...WE'VE HAD MANY REQUESTS FOR MERCHANDISE, BUT UNFORTUNATELY, WE ARE NOT ABLE TO SELL MERCHANDISE FROM THE RV ON THE ROAD.

Follow Aggieland Outfitters & the #AORoadtrip online for any last minute updates as well!
Facebook: www.Facebook.com/AggieOutfitters
Twitter: @AggieOutfitters
Instagram: @AggieOutfitters
Pinterest: www.Pinterest.com/AggieOutfitters